Teacher Recommendation
A Brief Introduction to
QingYangHuiMing Professional Teacher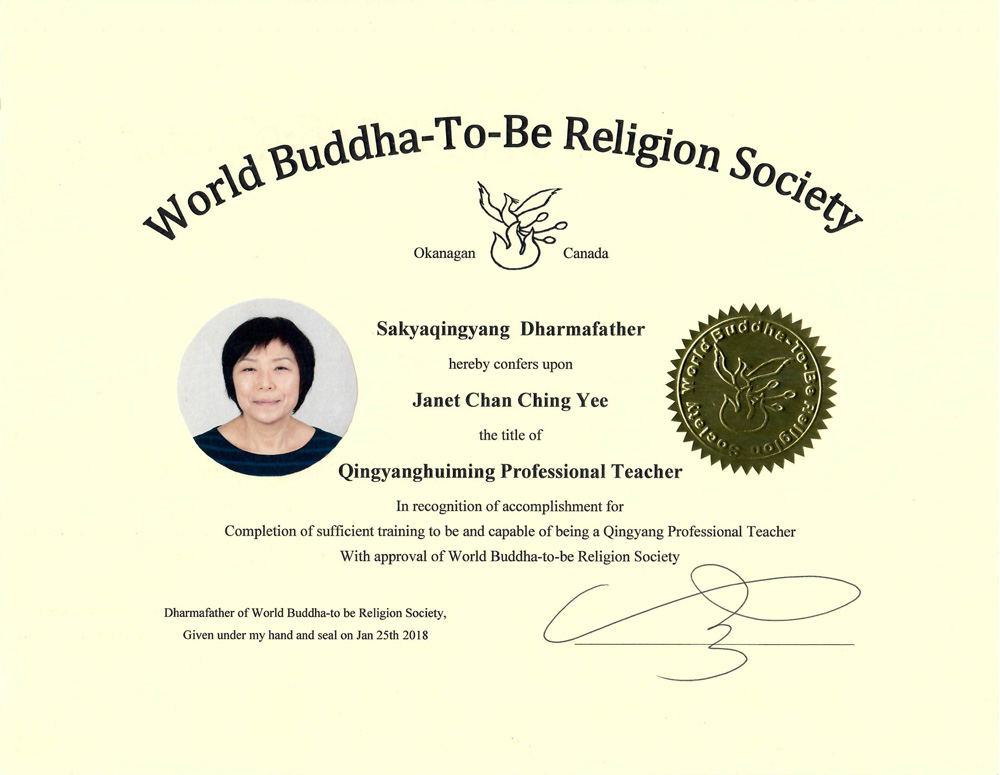 Born in China, Janet Nield Chan migrated to Canada from HK with her family in 1968.
Having completed a bachelor degree from Simon Fraser University in 1980, Janet returned to HK and worked in multi-national corporations in Human Resources Management for the next 20 years. After retirement from her corporate career, she continues to live in HK with her husband.
Janet started to practice the Qingyang Meditation Method in 2006. This practice sparked her interest in Buddhism, and in taking a Buddhist Studies master's programme with Hong Kong University to learn more about the Buddha's teachings. In 2009 Dharmafather Sakyaqingyang published "Rectifying Fallacies of Modern Buddhism" - the first canon of Buddha-to-be Religion. By studying this, Janet began to cultivate the correct views on Buddhist practice and achieving Nirvana.
In 2015, the second canon "The Secret of the Mystic Meditation Practice" was published, and this has enabled her to understand the importance of practicing under an ordained master within the Qingyang Meditation lineage. This is a vital step in cultivating the Dharma Body for attaining Nirvana.
As Janet has benefitted so much from Dharmafather's teaching and the Qingyang Meditation Method, she wishes to promote the teaching and method. For years, she has provided a property in Hong Kong as a venue free of charge for people to come together to learn and experience this practice.
In all these years of studying, she learned to differentiate what is correct Dharma and who is a genuine teacher that can guide her to Nirvana. She came to the conclusion that Dharmafather is the Buddha-commissioned Special-Dharma Representative, and she wanted to seek his guidance to remove doubt and obstacles on her quest for enlightenment.
Due to her unrelenting pledge to follow the Buddha's correct teaching, and through the compassion of the Dharmafather, Janet was finally accepted by Sikyaqingyang as a Dharma-Body disciple. In January 2018, with Dharmafather's approval, Janet went to Canada to receive training to become a professional teacher of the Qingyang Meditation Method. Upon successfully completing the training, Dharmafather conferred on her the Dharma Name Qingyanghuiming, five Order Cards, and one thousand five hundred years of Cultivation Attainment. With these conferments, Janet's Deva Eye and supernatural power are activated, enabling her to work in different dimensions to better her own practice and help those who seek assistance.
As Hui Ming Professional Teacher, Janet is now instructing the Qingyang Meditation Method and conducting classes in Hong Kong.
Qing Yang Meditation Hall.
Address: 17/F Corn Yan Centre. 3 Jupiter street. North Point. Hong Kong
Contact: 852 - 9036 1727
hm@buddha-to-be.org